Through the Darkness Comes the Light

Are there athiests in a foxhole? Through the Darkness Comes the Light answers that question and more. Through the Darkness is an unlikely story of my conversion from athiest, Marine Sniper and alcoholic, who was battling PTSD and didn't know it ... to a follower of Christ. I had no interest in religion or doing good for that matter. At a critical point in my life, a friend, a member of no church at the time, bore his testimony of Christ and his restored gospel. He changed this snipers life years after the war. In this book, I share my miraculous change and my continuing conversion to the gospel of Jesus Christ and the Church of Jesus Christ of Latter Day Saints. It's a simple, honest story of my journey. It's a story of tragedy and triumph, love and hate and ultimately peace in the end. It is available on Amazon, just click on the image to the left. I was inspired to write this book that I might share the joy of the gospel of Jesus Christ.
Dead Center A Marine Sniper's Two Year Odyssey in the Vietnam War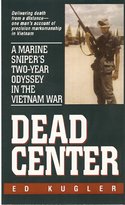 Raw, straightforward, and powerful, Ed Kugler's account of his two years as a Marine scout-sniper in Vietnam vividly captures his experiences there--the good, the bad, and the ugly. After enlisting in the Marines at seventeen, then being wounded in Santo Domingo during the Dominican crisis, Kugler arrived in Vietnam in early 1966.

As a new sniper with the 4th Marines, Kugler picked up bush skills while attached to 3d Force Recon Company, and then joined the grunts. To take advantage of that experience, he formed the Rogues, a five-sniper team that hunted in the Co Bi-Than Tan Valley for VC and NVA. His descriptions of long, tense waits, sudden deadly action, and NVA countersniper ambushes are fascinating.

In DEAD CENTER, Kugler demonstrates the importance to a sniper of patience, marksmanship, bush skills, and guts--while underscoring exactly what a country demands of its youth when it sends them to war.
---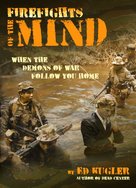 Firefights of the Mind When the Demons of War Follow You Home
Ed Kugler is the Author of Dead Center - A Marine Sniper's Two Year Odyssey in
the Vietnam War. In his latest book Firefights of the Mind he reveals for the first time
his lifelong struggle with PTSD. The book was originally written before Dead Center in
1993. It was written as a diary covering the year after one of his snipers from Vietnam
died. The book is straightforward, raw, honest and revealing. It was dusted off and rewritten by the Author in an effort to help todays Veterans returning with PTSD. If you want to see inside the mind of living with PTSD and still succeeding in life, this book is for you. You'll stand in the shoes, sleep with, live with and celebrate life with PTSD. Understand what it is like to send you people off to war and see what they live with the rest of their lives. Ed offers 10 distinct things he and his family have learned that might help today's vet's and their families. In this book, Ed plows new ground in the battle with PTSD. You haven't read a book quite like this one.
---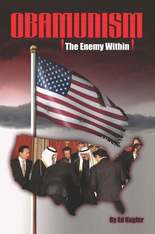 Obamunism The Enemy Within
Obamunism is an eye opener! Learn why our President is not just an inexperienced learner. Learn the connection between his Marxist direction and the communists of the 40's and 50's. You'll be surprised when you see nearly four dozen communist goals and all but one of them has been or is being accomplished. Obamunism is a must read to understand what happened to our great nation. You'll see the thread that runs from Marx and Stalin right through today, including the Civilization Jihad of Islam. You can't afford not to read this book if you care about the America we know and love and are losing everyday. Obama and his band of Socialists are the enemy within.
---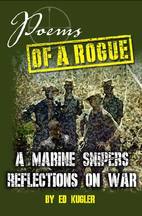 Poems of a Rogue A Marine Sniper's Reflections on War
Ed Kugler, Author of Dead Center - A Marine Snipers Two-Year Odyssey in the Vietnam War bring you, Poems of a Rogue describes in vivid detail the impact of war on our kids, an impact that is felt for many years. In this series of poems flows the pain, anguish and anxiety of many years, triggered by events in the war in Iraq. It is dark, raw, real and heartfelt. It is a wake up call for America today.

---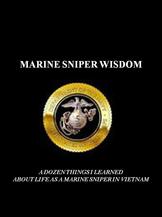 Marine Sniper Wisdom A Dozen Things I Learned About Life as a Marine Sniper in Vietnam
A compilation of twelve short stories learned on the battlefields of Vietnam. Each short story teaches one principle learned the hard way and proven true over a lifetime of management in Fortune 50 companies. Marine Sniper Wisdom is designed to be brief, to the point and actionable. Put it on your phone so it'll be handy in your next staff meeting!
---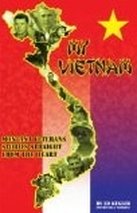 My Vietnam ​ Montana Veterans Stories Straight
from the Heart
My Vietnam is a unique look at the Vietnam War like no other. A Vietnam Veteran and
teacher in Frenchtown, Montana convinced his school board to allow him to teach a
history class on the Vietnam War. Over a decade later his program had grown and an
annual Vietnam Symposium was held each year. In this one of a kind book you will hear
twelve Vietnam Veterans, from all branches of the service and many different military
​ specialties, answer the twenty-five most common questions they received at the annual Symposium. It provides a unique insight into the war from men of all ages, ranks and branches of the service who served at different times during the war. There is no book like it on the market.
---
The Well House A Story of War, Love, Peace and Forever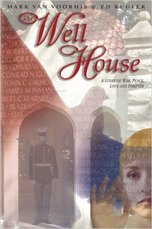 Ed's First and Only Novel: It was 1967. The conflict in Vietnam had become a war no one wanted. It was a time when the young had no future and the present was in doubt. Maggie O'Reilly, the daughter of wealthy Chicago socialites, had adopted her parents' disdain for the war. Clayton Wesley Riggs, a farm boy from Hope, Indiana, came from a long line of Marines and was expected to carry on the tradition. In spite of these differences, Clayton and Maggie begin a friendship at the "Well House" at Indiana University. That friendship would change both of their lives forever. The Well House is a story of peace and hope. Its message of war and the carnage of Vietnam strike a chord of truth for today. It is a story of how love transcends the boundaries of time and circumstance. It is a story for now and forever.
---
How to Cope When You're Organization
​is Changing Faster than You Are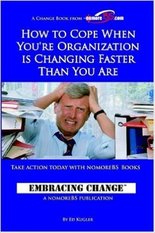 ​ How to Cope When Your Organization is Changing Faster Than You Are
is a hands on guidebook for coping with change in your organization. It is based on
Ed's work as a Marine Sniper for two consecutive years in the Vietnam War and his
thirty plus years as a corporate executive in Fortune 50 companies. It is real world
and not theory from academia. If you want to know how to cope with the rapid pace
of change you need this book. Ed takes you from coping to embracing change and it's
not theory its principles that work. In our fast changing world where you wake up in
the morning and work for a different company ... this is advice you need.
---
The Look in the Mirror Diet It Works if You Do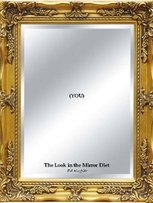 The Look in the Mirror Diet is written by a Marine Sniper whose been battling weight since he left the jungles of Vietnam after two consecutive years in the war. Its the only true diet book on the market. In his nomoreBS style, Ed shares his battle that has included losing over 900 pounds over the past forty years. He discovered the truth he shares in this book that has seen him losing over 90 pounds and keeping it off year after year since the early 2000's. As a recovering alcoholic he's been on a journey worth sharing. He has 60 pounds to go and you can go on the remainder of his journey with them. If you want the problem and the solution outlined in a straight forward manner by someone who is in the battle with you - The Look in the Mirror Diet is for you!
​

---
"Good writers define reality; bad ones merely restate it."

​Edward Albee